Wood Products

Fascia Board – Primed
Fascia boards are the faces between your gutters and your siding. All fascia materials help secure your gutters. Essentially, in addition to an updated design, fascias hold your gutters in place during a big storm. We have a large selection of primed fascia boards for your projects.
Clear Cedar 1×4 and 1×6 T&G
Cedar is quietly growing in popularity, and for all the right reasons. It is probably the ideal building material for outdoor R&R projects, and even more so in high-moisture conditions. Naturally occurring preservatives in the species make it resistant to rot, decay and insect attacks.
Cedar is light and easy to work with, but the variety of looks and finishes that can be created is what really makes its versatility unparalleled. Cedar is pitch and resin-free and perfectly suited to take virtually any stain, finish or bleaching product, giving the homeowner or builder a myriad choices on the final look.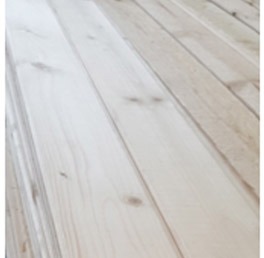 Pine 1×4 and 1×6 T&G Clear and Primed
Pine wood is widely used in high-value carpentry items such as paneling, floors,roofing and as soffits.
At a great price and a beautiful look your finished project will surely look amazing.
Prefinished T&G Soffit paneling
This beautiful and durable wood wall and ceiling paneling features an end-matched, v-groove profile that comes prefinished in unique colors. Manufactured from knotty, appearance grade SPF, It is available in 1×6 T&G profile for interior and exterior applications. Its end-matching prevents waste and allows for faster installation.